Bharati Vidyapeeth's School of Photography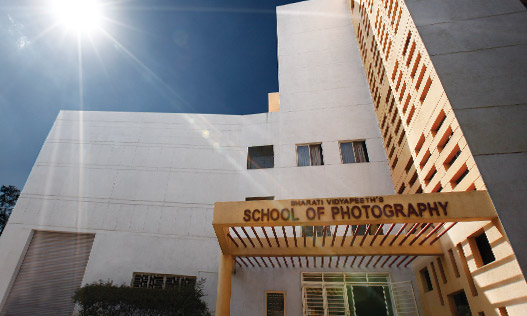 In the 12 years since its inception Bharati Vidyapeeth's School of Photography has emerged as the leading destination in India for education in both still and the moving image.
Our combination of state of the art infrastructure and vastly experienced and committed mentors make BVSP the premier choice for students who are looking to venture into a career in the creative industry.
Our primary goal is to help students develop an artistic eye, which is why we place a strong emphasis on the fundamentals of art and design. Students are encouraged to transform images into narratives and in the process, create a signature style that becomes integral to their identity as a visual artist. BVSP has always taken pride in the fact that it is successfully setting new standards in lens-based media education. We offer courses that are ever evolving to combine technology and creativity with an aim to place our students at the forefront of the new breed of industry ready professionals.
Courses offered at BVSP are structured to include maximum industry relevant content, which is delivered by respected mentors and professionals from the industry. We strongly believe that while classroom learning helps build a foundation, practicing that knowledge helps to transform it into skill.
Our mentors are handpicked to ensure that you learn from giants of the industry who are acknowledged game-changers in their fields. This ensures that you benefit not only from their impeccable technical knowledge but also from their wisdom earned on demanding shoots. Our in house mentors has a proven record of accomplishment while our guest faculty comprises of leading photographers like Jaideep Oberoi, Tarun Khiwal, Avinash Gowariker, and from Cinematography & Filmmaking Dara Singh (Sound Design), Dilip More (Art Direction) Aniket Kale (Film Editor), Deep & Yardly Pal (Steadicam), Gayatri Chatterjee (Film Scholar and Author) and other. We also enable interactions with hair and make-up artistes, food stylists, creative directors, and artistes from various disciplines.
Our intensive hands-on approach means that our assignments are designed in such a way that enables the students to tackle them with preparedness and pressures similar to what professionals experience on real-world shoots.
The fact that our alumni are already being taken notice of in the world of commercial photography from shooting look-books for international publications like BBC to shooting national campaigns for brands like Hugo Boss, Levis, Westside, L'Oréal India, Nivea, Godrej, Big Bazar Tanishq, Fuji Films, One Plus, Nestlé, KFC India, McDonalds, Behrouz Biryani, Baskin Robbins, Nescafe, Hilton Group, etc. This endorses our learning outcome of empowering students to graduate with unmatched readiness.
Admissions open!